Intelligent Delivery Systems | Green Gorilla ProLine™

Precision Application
Precisely maintained pressure throughout a job means you never put down less or more product than you need.

Faster Job Completion
Operators can spend up to 25% of application time just pumping. By removing the need to pump, the user can complete jobs faster, opening them up to take on more jobs per day.

Increased Profits
Make your business more profitable by precisely controlling product use, faster application times, and by reducing repetitive motion injuries.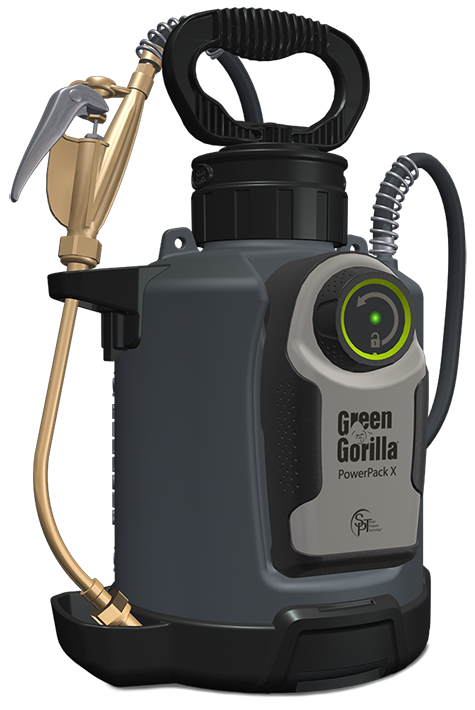 SMART PRESSURE TECHNOLOGY
Built to help you work faster, easier, and more efficiently, our systems free you from pumping while digitally maintaining tank pressure.
Digitally controlled for superior distribution consistency
Lithium Ion powered, providing you power all day long
Saves operators up to 25% of their application time
Precision application to deliver the right amount every time
Learn More
Options for Every Job
The right equipment can make all the difference. We offer a host of options and accessories so you can get exactly what you need for the job at hand.
Industrial uses of the Green Gorilla today
Our systems have been built for many applications, covering a wide range of uses. Here's a brief list of the areas our systems are already being used.
Pesticides
Cleaning
Automotive
Landscaping
Agricultural
Sealants
Industrial Degreasing
Hazmat
Remediation
HVAC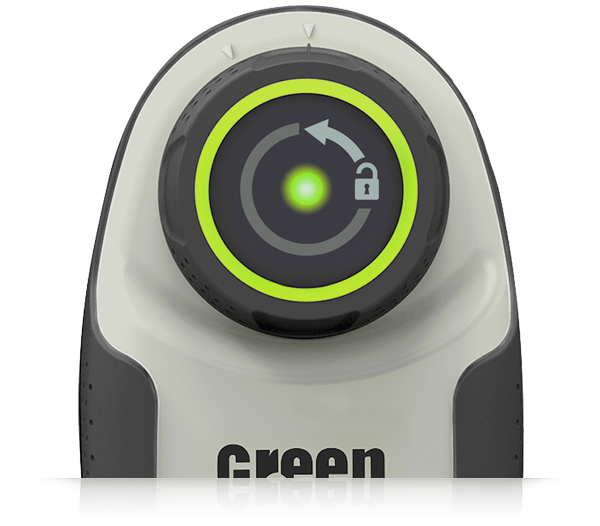 Proudly built in the USA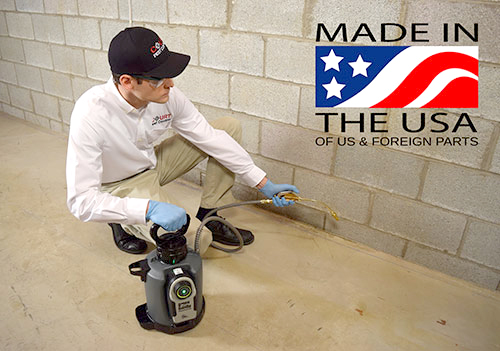 We believe that American made means better made. Our factory is located just outside Pittsburgh, PA: the heart of steel country. Every part is assembled and tested here by our dedicated team, and we strive to source the majority of our materials locally.
We're not at 100% yet, but we are committed to sourcing more and more of our production from the USA. While other companies are shipping jobs away, we're increasing our percentage of USA made content constantly.
What People Are Saying
We have loyal customers all over the country who have given up pumping for good. They've seen first hand the benefits that Green Gorilla has to offer: protecting their bottom line and their workers.
John Faulkner
Owner of Faulkner Pest Service, Amarillo, TX
The Green Gorilla has been a great addition to our arsenal in serving our residential and commercial pest customers. We use the Green Gorilla as an outside perimeter treatment to control ants, cockroaches, and crickets. The battery pack allows us to perform the service quicker.
Timothy A. Regal
Owner of Regal Pest Control, LLC, Plymouth, MI
Having a compressed air sprayer that enabled a steady rate of delivery is, in my opinion, the next generation of spray technology. The lithium ion battery provides for consistent, uninterrupted service.
Keith Brooker
CEO of Paragon Pest Solutions, Inc., Brevard, FL
I purchased a Green Gorilla... for an employee who had been complaining of shoulder issues from constantly having to pump a backpack sprayer. Since then the employee loves it and the productivity has definitely increased. We plan on purchasing one for each of our service trucks.
Put Our Technology to Work
The Green Gorilla ProLine uses Smart Pressure Technology (SPT) to precisely control pressure automatically, eliminating manual pumping, protecting operators from repetitive motion injuries, and applying product with unprecedented precision.
Smart Pressure Technology
Digitally controlled pressure. Apply the right amount every time.
Lithium Ion Power
Superior power cell density for all day use.
Clear Jobs Faster
Reduce application times by up to 25%. No more stopping to pump.
Reduce Operator Strain
Avoid costly injuries from repetitive pumping.
Precision Application
A digitally maintained tank for precision results.
Built to Work
Built here in America to stand up to the roughest jobs.